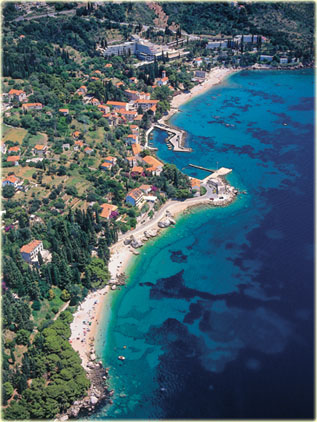 Mlini is an old historic place, one of the finest in Zupa Dubrovacka, situated along the banks of the precipitous rivulet Zavrelja, beside several sand beaches and bays with clean sandbanks. Ample dampness and warm climate have changed everything into fragrant parks and gardens filled with every kind of plants and vegetation.The name of the place comes from the mills (Mlini means 'mills') that used to be moved by the waters of the rivulet Zavrelja.
Mlini is located just 10 kilometers from the town of Dubrovnik, in an uniquely beautiful and still unspoiled area, in a beautiful well protected bay. Cavtat is just 12 kilometers from Milni, and there are regular busses that connect Mlini to Dubrovnik and Cavtat. The population of Mlini is around 1,000 inhabitants. Mlini is among one of the most developed tourist resorts in the riviera of Dubrovnik, with several hotels and lots of restaurants, pensions and private apartments. The coast of Mlini is very beautiful, with lots of beaches, lush vegetation and crystal clear sea. There are many beaches in Mlini, most of them are pebble beaches but there are few sand beaches. Both pebble and sand beaches have shallow entrances to the sea, which makes them ideal for families with children. There are many small hidden beaches, bays and swimming spots, and many organised boat excursions to numerous nearby islands. Diving, windsurfing and other water sports are very popular in Mlini.
The place abounds in historic monuments and many legends, according to one legend St. Hillary has burned down the dragon of Epidaurum on the beach of Mlini in the 4th century, thus saving Epidaurum from earthquakes, evil, attacks of barbarians and destruction. The little church of St. Hillary (Sv. Ilar) has been erected in the memory of the deliverer who has become the patron saint of this area. There are two more historic little churches: St. Rock on the coast and St. Spirit on Krstac. There is also an ancient graveyard on the hill that rises above the coast. The inscription tablets on the graves mention the names of the oldest families from Zupa living here in the Roman times of old Astarea.
Mlini is one of the best developed tourists' resorts of the Dubrovnik area, with fine hotels situated in picturesque environment, beneath the historic mountain Spilan, almost penetrated into the shape of the mountain and the wooded rocky land. There are also plenty of opportunities of accomodation in private rooms in fine houses and numerous villas.