The island of Mljet, Croatia
Mljet
is the largest island of the Dubrovnik archipelago. The luxurious beauty of this island is all wrapped up in legends and has entered the myths of the ancient people. Homer mentions the wonderful nature of Ogygia where
Odysseus
roamed about, and many people think that the marvellous Ogygia might actually have been the really marvellous
island Mljet
.
Many historians claim that St. Paul, the Apostle, put ashore here on the island in the year 61 AD, after his boat had been shipwrecked.
The
finest beaches
of the Adriatic are contrasted by the hard stone and rocks, and there are also some
natural phenomena
- the two small
lakes
in the middle of the island linked by sea water. In the middle of the larger lake there is an old Benedictine monastery.
The island Mljet is a treasury of cultural and historical monuments. The oldest settlement dating from the ancient times is the village Polace (meaning "Palaces"), called after the ruins of a Roman palace from the 5th century.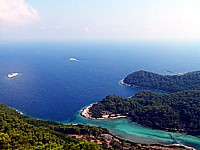 In
Babino Polje
, the largest settlement on the island there is still the 15th century Rector's palace, and also numerous Renaissance summer residences and other buildings from the time of the
Dubrovnik
Republic.
The most important monument is the Benedictine monastery of St. Mary, on the island in the middle of the Large Lake (Veliko jezero) built in the 12th century in the old-romanesque style.
In the course of centuries the monastery was the centre of the Renaissance culture on the island, which can be proved by the numerous inscriptions, tablets, libraries and the great amount of cultural heritage.
The island has excellent shipping service with Dubrovnik and
Korcula
.
Accommodation: Hotel "Odisej", and private
apartments
.