Zuljana, peninsula Peljesac, Croatia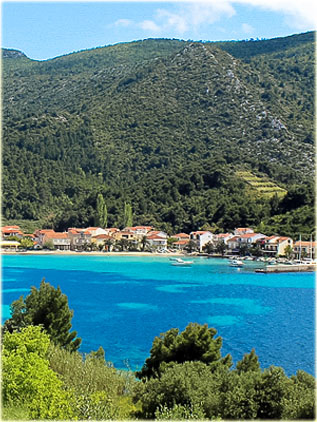 Žuljana is a very beautiful small village, located on the south-western shore of the peninsula Pelješac. located approximately 80 kilometers from the town of Dubrovnik. overlooking the island of Mljet and Mljet channel. Žuljana is a small fishermen settlement (around 200 inhabitants all year long) but it also has a very long experience with both classic and diving tourism which is rapidly developing and growing from year to year. Wine-growing is also very important for this village, since it is located on one of best wine regions in Croatia, just few kilometers from the famous Dingač vineyards.
For those arriving to Žuljana from the first time, and especially from the sea by boat, will be astounded with natural diversities, amazing scenery of hanging rocks and landscapes of lush pine woods stretching all along the sea shore with amazing pebble beaches, underwater treasures and friendly local people which are main reasons why Žuljana keeps attracting more and more visitors from all around the world every year. There are no hotels in Žuljana, and visitors are accommodated in 2 campsites and many private apartments. Visitors can find everything they need in Žuljana, since there are two grocery stores there, tourist and post office, money exchange and caffe bar. Also, many of local people sell their naturally grown fruits and vegetable, which can be obtain directly from them, including also fresh fish from local fishermen.
We've explored entire Croatian coast, and we can easily say that beaches in Zuljana are amongst most beautiful ones, especially in the Southern Dalmatia. The main beach located in the village port is a sandy beach, with very clean sand. The water is very shallow there, and it is perfect for small children, but beautiful pebble beaches situated in the surrounding of the village, are also suitable for children, thanks to shallow entrance and small natural pebbles.
The sea is crystal clear thanks to strong sea currents which caress these wild but also very pleasant and tame shores - this makes the sea around Zuljana ideal for snorkeling, diving and spearfishing. Surroundings are ideal for walking, hiking and biking. Excursions are organized daily to the island of Mljet, Mljet National Park and Benedictine monastery, the island of Korčula and Orebić. We also recommend you visit nearby town of Ston, with impressive stone walls, ancient salt-works and famous cuisine based on the shells naturally grown in Ston bay. We proudly invite you to visit Žuljana, and experience it, if you are the type of traveler which searches for nature, peace, gastronomy and harmony we are sure you will enjoy it.